Advice on corona for women who are pregnant or breastfeeding
Here you will find answers to the most common questions pregnant or breastfeeding women have related to the coronavirus.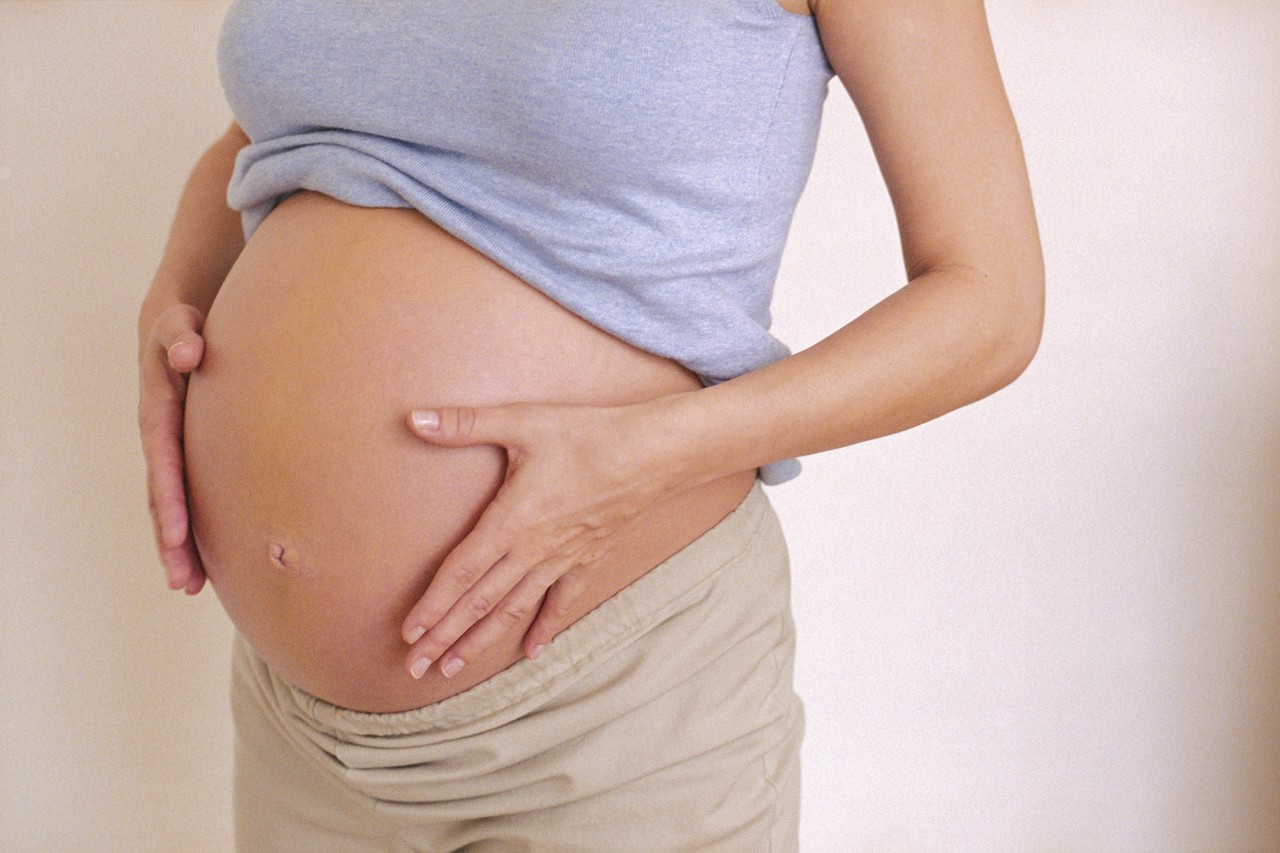 Pregnancy and corona
What do we know about pregnancy and the coronavirus?
At present, there is little to suggest that pregnant women are particularly prone to developing a more serious illness from the coronavirus, even if pregnant women may be at increased risk of a more serious course of certain viral infections, such as influenza.
In September 2020 a systematic review of COVID-19 among pregnant women was published. There is great uncertainty linked to the findings and difficult to conclude, as different countries have different test and treatment routines.
There is still little to suggest that pregnant women are at particular risk of a severe course of the disease and many will not develop any symptoms. The most common symptoms among pregnant women are coughing and breathing difficulties. It appears that pregnant women who develop symptoms have a slightly increased risk of needing hospital treatment, intensive care and respirator treatment. COVID-19 during pregnancy has not been shown to increase the risk of miscarriage, but some studies suggest that the risk of premature birth is somewhat higher. This might also be due to the fact that some countries have as a routine to deliver pregnant women with COVID-19 by caesarean section.
The health care services are taking many precautions to protect you and others by reducing the risk of transmission and disease.
The Norwegian Institute of Public Health (NIPH) also offers advice to pregnant and breastfeeding women.
Should I take special precautions?
To prevent infection, you should follow the same advice as the general population. Read more on how to prevent transmission.
If any of your close contacts show symptoms of respiratory infections you should limit the contact.
Based on the precautionary principle the National Institute of Occupational Health in Norway recommends assessing the situation and to adjust to individual needs based on communication between the pregnant woman, the employer and the occupational health services or the doctor/midwife.
Further information on this recommendation from the National Institute of Occupational Health in Norway (stami.no). (in Norwegian)
All pregnant women who are in the 2nd or 3rd trimester are recommended to take the seasonal flu vaccine. If you are in the 1st trimester, and you have risk factors, the seasonal flu vaccine is also recommended. This is independent of infection by the coronavirus.
What should I do if I am pregnant and part of a risk group?
The risk groups for a severe course of COVID-19 are the same for pregnant women as for others. If you are pregnant and have an underlying condition such as diabetes (i.e. diabetes with onset prior to pregnancy), cardiovascular disease and / or obesity the risk of a more severe course of COVID-19 is increased. You should follow the advice for risk groups.
You should discuss with your doctor whether there is a need to take additional precautions and if workplace adjustments are necessary. Sick leave is not required unless work adjustments are impossible. If you work as a healthcare professional and are pregnant, you should –based on the precautionary principle - arrange with your employer so that other personnel perform testing and treatment of persons with probable, suspected or detected coronavirus (COVID-19 disease), as far as possible.
Vaccination when pregnant
Studies suggest that COVID-vaccination is safe both for the pregnant woman and for the fetus. Due to limited experience with the vaccine for pregnant women, the vaccine is currently not recommended.
Vaccination when pregnant and part of a risk group
It is however important to consider vaccination if you are pregnant and part of a risk group due to an underlying condition.
You can also consider getting vaccinated even if you are not part of a risk group or have an underlying condition. This is particularly relevant if you live or work in an area with a high level of infection and you do not have the opportunity to limit contact with others.
Your doctor can help you assess whether the risk of becoming seriously ill with COVID-19 outweighs a potential unknown risk after vaccination.
As a general rule, vaccines should not be given during the first trimester of pregnancy.
Your partner and other members of your household can reduce the risk of infection for you and your unborn child by getting vaccinated.
Complete vaccination reduces the risk of turning ill. At present, we do not know for sure to what extent the vaccine prevents the spread of the virus. You should therefore follow the national and local guidelines for infection control also after vaccination.
Can the virus be transmitted from me to the baby prior to or during birth?
We do not know for sure whether the coronavirus can be transmitted from the mother to the baby prior to or during birth. Certain studies indicate that this may have happened.
It is known that the virus can be transferred to the newborn child from the mother after birth. Children born to mothers with COVID-19 and who have been infected after birth have shown only mild or no symptoms at all. Unless you or your newborn child is seriously ill, you can be with your child while following the advice for infection control given by the health personnel.
Should I follow my normal pregnancy check-up routines?
Service activity for pregnancy check-up routines should be maintained as normal at the local health centre. We recommend you contact your midwife/doctor when you find out that you are pregnant and follow the recommended pregnancy check-up routine. Read more about antenatal appointments. We also recommend you follow your scheduled appointments with your midwife/doctor. If you are worried about your own or your unborn baby's health, you should contact your midwife/doctor even if you do not have an appointment.
What can I do myself?
You can optimize your pregnancy and reduce the risk by refraining from alcohol, tobacco and other drugs. Consult with your doctor if you are on medication. Starting to take folate (folic acid) as early as possible during pregnancy is beneficial, preferably already while planning your pregnancy. Other vitamin and mineral supplements may also be needed, such as vitamin D, iodine, and omega 3 fatty acids. You will find more information on diet during pregnancy here (in Norwegian).
What should I do if I suspect that I am infected or feel sick?
If you have symptoms of a respiratory infection, if you suspect that you are infected by the coronavirus, or if you have been in close contact with someone with a confirmed infection, it is important that you contact the health services before check-ups to discuss how these should be carried out. Typical symptoms of COVID-19 are cough and shortness of breath. It appears that fever and other moderate symptoms are not as common for pregnant women as for non-pregnant.
Is wearing a face mask safe for pregnant women?
Wearing a face mask can be uncomfortable for some, but when correctly used the face mask will not hamper free breathing or the uptake of oxygen. There is no indication that the use of a face mask is linked to an increased risk for the pregnant woman nor for the fetus. When wearing a face mask, it is important to fit the mask correctly so you can breathe freely.
Birth and corona
What happens when I go into labour?
If you are not sick or infected, birth will proceed as normal.
Should a coronavirus infection be confirmed just prior to or during birth, you will be given a separate room, the staff will be wearing protective clothing and there is a possibility that you will also be asked to wear a face mask.
You can be with your newborn baby after birth unless you are seriously ill, or the baby is very premature or ill. Maternity and neonatal departments in Norway are prepared to receive both you and your baby and have established routines on how to best assist you.
Can family and friends come visit me at the hospital?
Visits to hospitals should be facilitated as far as possible. There will however be restrictions on visits to the mother and child during the ongoing COVID-19 pandemic.
The hospital will assess the need of the woman giving birth to receive visitors relative to the risk of spreading the infection, the individual risk of a more severe progression of COVID-19, the local infection situation and the capacity at the institution for welcoming visitors. All visits must be in line with the national recommendations for infection control.
Persons who have been traveling outside of Norway, cannot visit the hospital until 10 days have passed. This also applies for travels to yellow countries only. If you are pregnant, in travel quarantine and in urgent need of health care, you should immediately call the maternity ward. Inform them of you recent travel and that you are in quarantine.
The hospital has a responsibility to reduce the risk for you and your baby, for other women giving birth, for newborns and for personnel who need to be at work. Refer to your hospital's website for further information.
Can I bring a birth companion?
It is important for you to be able to bring a partner or close relative that can be present prior to, during and after birth. The staff at the hospital will do everything they can to meet your needs. At the same time, they must comply with the guidelines for infection control and ensure sound operation at the maternity ward. For some, it may be relevant to undergo testing for the coronavirus in advance. Contact your maternity ward for advice and guidance.
Breastfeeding and corona
What do we know about breastfeeding and the coronavirus?
Breastfeeding is recommended even if you are infected by the coronavirus or sick with COVID-19. No transmission of the virus from mother to child has been detected, nor has transmission of the virus been detected via breast milk. Relatively few infants have been reported with confirmed coronavirus infection. Those that have had an infection have had a mild course of the disease.
Can the virus be transmitted from the mother to the baby during breastfeeding?
There is no current evidence to suggest that the virus can be transmitted via breast milk.
What we do know is that breastfeeding protects the baby from disease after birth as well as later in infancy and childhood. Breastfeeding protects against infection by transferring antibodies from mother to baby. Breastmilk also contains components that are beneficial for the development of the child's immune system. Breastmilk and breastfeeding have several positive health benefits both for the child and for you who are breastfeeding.
The World Health Organization (WHO) recommends mothers with a confirmed COVID-19 infection to breastfeed their child even if the general advice for infection control cannot be adhered to. WHO states that the health benefits for the baby of breastfeeding are great while the risk associated with COVID-19 infection is low.
Vaccination and breastfeeding
Breastfeeding women can take the corona-vaccine, just like others. Although the effect of the vaccine has not been studied for breastfeeding women specifically, the medical assessment is that vaccination of the mother is unlikely to pose any risk to the child. There is no known risk of transfer to breast milk for non-living vaccines (e.g. mRNA-based vaccines and vector-based vaccines).
It is not recommended to discontinue breastfeeding after vaccination. At present, only women who is given priority as part of a priority group will be offered the vaccine.
What advice applies to me who is breastfeeding?
If you are healthy without suspected or confirmed COVID-19 infection:
Follow the general advice on breastfeeding / infant nutrition: The child should, as far as possible, be breastfed for the first six months followed by a combination of breast milk in combination with solid food until one year of age or longer. Read more in the article Breastfeeding and breastmilk (in Norwegian) and the brochure Food and meals for infants (in 14 languages) (helsedirektoratet.no). Here are Unicef foreign language resources on breastfeeding.
Be extra attentive to hand hygiene and wash your hands prior to all close contact with the child. Always wash hands thoroughly with soap and water before breastfeeding. Use an alcohol-based disinfectant if hand washing is not possible.
If you have a have a suspected or confirmed COVID-19 infection:
Follow the general advice for breastfeeding (listed above).
Wash your hands thoroughly whenever you are in close contact with the baby, prior to breastfeeding and prior to touching your breasts.
You should be with your child as much as possible. Skin-to-skin contact between mother and child is important for the child's temperature regulation and general health. This contact will also promote the connection and bonding between mother and child.
Try to avoid touching your breasts just like you avoid touching your face, to avoid transmitting the virus from your hands to your breast (and further to your baby). If you receive breastfeeding guidance from a health care provider, ask if he or she can show or explain without touching your breasts.
Avoid coughing or sneezing directly onto your baby. If you cough or sneeze, turn away from the baby and use a tissue paper that you then dispose of. Immediately wash your hands.
If required, for example if you cough or sneeze onto the breast, the breasts can be washed with soap and water; alcohol should not be used.
Clean your home frequently, including washing/disinfection of surfaces that you are in contact with, such as door handles, mobile phones etc.
If you are hospitalized (for example after giving birth), wear a face mask when in contact with the baby and during breastfeeding, until you are symptom-free.
If you are seriously ill and cannot breastfeed the baby directly, it will be of great benefit if you can get help to express/pump breastmilk for the baby while still following the advice for infection control. If you are ill and your condition is such that the baby cannot be with you, if will be beneficial if the baby can be in close contact with the father / co-parent or another family member.
Bottle feeding / infant formula
If you have a suspected or confirmed COVID-19-infection and the baby is fed by bottle (breast milk or formula) the same advice for infection control as given for breastfeeding applies.
Bottles and other equipment must be carefully cleaned. You should be with your child as much as possible. Skin-to-skin contact between mother and child is important for the child's temperature regulation and general health. This contact will also promote the connection and bonding between mother and child. Limit the number of people feeding the baby.
Read more about formula: Guide on bottle feeding is given in English, Arabic, Bengali, Polish, Romanian and Urdu.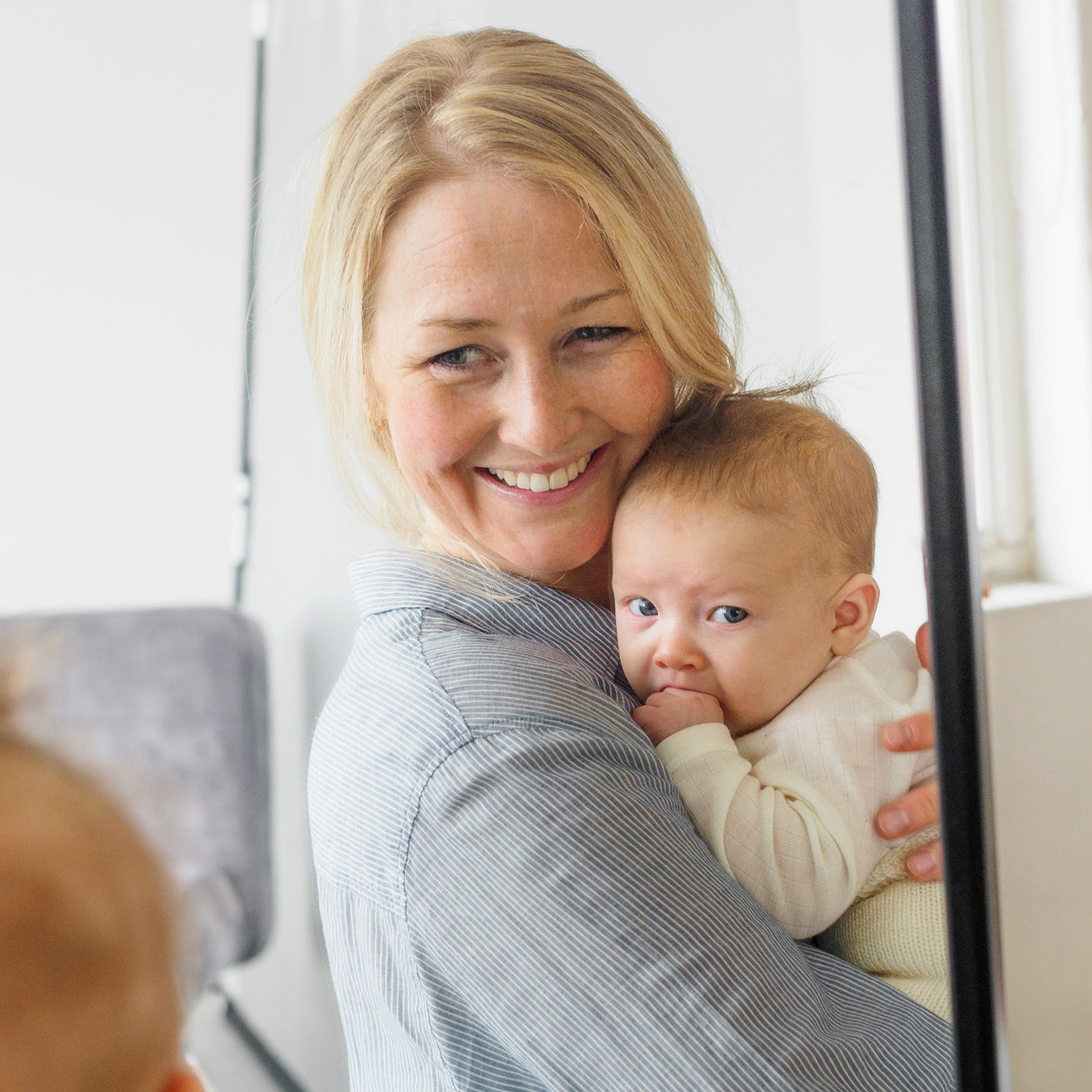 Breastfeeding and nutrition for infants during the first year
Useful advice and videos related to breastfeeding and nutrition (in Norwegian)
Illustration: Ole Walter Jacobsen - Helsedirektoratet