High risk groups and their relatives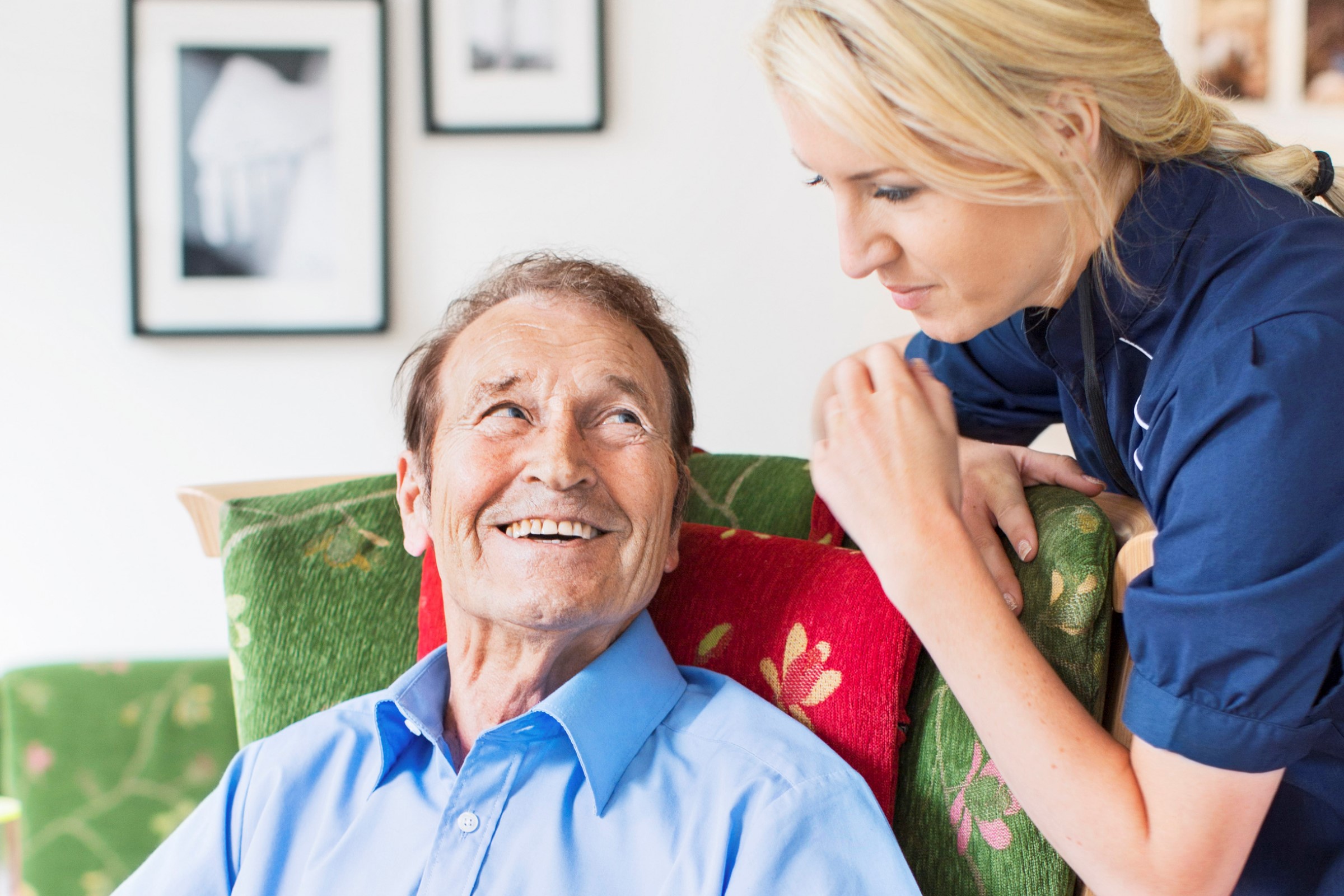 Is the coronavirus more dangerous for some groups?
Most people who are infected by SARS-CoV-2 (the coronavirus), will experience mild symptoms and fully recover from the COVID-19 disease. Some groups have an increased risk of a more severe disease, although most people in a risk group also will experience only mild symptoms. YBelow you can find information on which groups are at increased risk of a more severe progression of COVID-19, including advice for infection protection.
We should all follow the general advice by maintaining good hand and cough hygiene, limiting the number of close contacts and maintain a distance to others. This is especially important for people in risk groups.
The risk of serious illness increases with increasing age and underlying illness, and men have a higher risk than women. Younger persons without any known risk factors, can also experience a severe illness, but the risk is higher if they have underlying diseases.
If the level of infection in society increases persons in risk groups should live a more sheltered life.
Advice for risk groups
As new and updated knowledge is acquired, NIPH is regularly making new assessments as to who is at risk of a more serious progression of COVID-19. The advice is updated with descriptions on age groups and underlying disease with significance to the risk assessment.
This article mentions the term «your close circle of contacts". This refers to those in your own household, or a boyfriend/girlfriend. If you live on your own, you can have wo or three people as your closest contacts with whom you do not need to keep at a physically distance. Your close circle of contacts should stay the same over time.
Advice based on level of risk and infection in society
Here you can download an illustration with these advice in a table format (fhi.no).
Slightly increased, moderate or high risk?
Assessment of risk is done at a group level and not per individual. The level of risk will vary greatly between individuals within each group. If required, an individual assessment should be made in consultation with your doctor regarding the risk of a more serious progression.
Groups with a slightly/moderately increased risk
Between 66 and 80 years of age (and in particular older than 70)
Between 50 and 65 years of age and with one of the following chronic diseases:

cardiovascular disease (other than a well-managed high blood pressure)
Stroke
obesity (body mass index, BMI≥ 35kg/m2)
diabetes
chronic kidney disease and kidney failure
chronic lung disease (other than well-regulated asthma)
chronic liver disease
immunosuppressant treatment such as treatment of autoimmune diseases
dementia
Persons under the age of 50 have a low risk of a serious progression of COVID-19, but for some persons with a badly managed or combinations of several underlying diseases the risk might be increased.
Groups with a moderate/high risk
Above 80 years of age
Residents in nursing homes
Serious health conditions, irrespective of age:
Persons with cancer in active phase, ongoing or recently completed treatment for cancer (in particular immunosuppressant treatment, radiation therapy to the lungs or chemotherapy). Leukemia has a higher risk compared to other types of cancer.
Neurological or muscular diseases that lead to reduced coughing strength or reduced lung function (e.g. ALS)
congenital immunodeficiency in an unstable phase that lead to a risk of serious respiratory infections
blood disorders that affect cells or organs that are important for the immune system
bone marrow transplantation or organ transplantation
HIV infection with low CD4 counts
severely impaired kidney function or liver function
other conditions, assessed by a doctor
Based on the precautionary principle, The Norwegian Institute of Public Health has decided to include certain serious health conditions on the list of diseases that lead to an increased risk, even if there at present are no studies available that indicate a serious progression for all diseases.
To read the assessment of risk groups and the platform of knowledge on which the recommendations are based, see the article on risk groups on the website of the Norwegian Institute of Public Health.
General advice for persons in risk groups and their relatives
Make sure you have your required medicines available. Keep taking your regular medication and make changes only in agreement with your doctor.
If you have a forthcoming consultations or regular control you should keep the scheduled appointment unless informed otherwise by your treating institution. If in doubt, contact your doctor.
Remember good hand and cough hygiene. This also applies to those you live with and those visiting. Clean the household frequently, pay particular attention to surfaces that are often touched.
Avoid shaking hands as well as kissing and hugging people who are not part of your household or a regular partner.
Keep a physical distance to others both at work, outdoors and other places.
Going for a walk is nice in order to stay fit but choose places that are not congested.
Avoid spending time with people who show signs of respiratory infection.
Limit the use of public transport if you can, in particular during rush hours.
General advice to relatives
General advice to those in the close circle of contacts to persons in risk groups:
Stay in touch with persons who are in a risk group.
Follow the general advice on hygiene and other measures to reduce the risk of transfection.
Do not visit persons in risk groups if you have symptoms of a respiratory infection or you do not feel completely healthy.
Offer to help out with necessary errands.
If you live with a person who is in a risk group and develop symptoms of a respiratory infection or feel unwell, limit the time you spend together and contact your doctor if in need of medical attention. If possible, stay and sleep in separate rooms and use separate bathrooms. If this is not possible, it is important to keep a distance and use separate towels and toiletries in the bathroom.
What should you do if you become ill?
Contact your healthcare provider immediately if you feel ill and think you may have a coronavirus infection. Should you develop symptoms such as a fever, cough, shortness of breath or lethargy or a reduced general condition, contact your local health service for testing.
Should you develop a sudden onset of symptoms for which you would normally seek medical attention, it is important that you contact the health services regardless of whether you may be infected or not.
Advice for vaccinated people in risk groups
When people in risk groups have been vaccinated, they will largely be protected against sars-CoV-2 disease and a serious course of the disease so that they can live like normal. The full effect of the vaccine occurs 1-2 weeks after you have been fully vaccinated. We do not yet know how long the protection will last. If the protection decreases over time, refreshing doses may be necessary. The vaccinated must follow the general infection control rules.
Can grandparents be with their grandchildren?
Grandparents can have visits from children and grandchildren. You should not have visits from more than 20 guests in addition to those you already live with. But one must still not be more than that one can keep distance from those who are not in your household.
Advice for persons who receive home services and their relatives
Those who receive health and care services at home and their relatives/caregivers should follow the advice given to the general population and possibly the advice given to risk groups.
You can live as normal at home and give the care you usually do. Wash hands frequently and carefully with soap and lukewarm water. Keep the house clean in the usual way. Pay extra attention to surfaces that are often touched.
Persons with respiratory symptoms should not visit.
More information from the Norwegian Institute of Public Health: Health and care services at home and infection control for COVID-19 (in Norwegian).
As per guidelines from the Norwegian Institute of Public Health, employees from the municipality's health and care services should follow when assisting a patient without confirmed or suspected infection and who is not defined as a close contact or with symptoms related to the coronavirus.
Should you develop respiratory symptoms and you contact your doctor, your doctor and possibly the home care service will plan further follow-up in consultation with you.
Should persons in risk groups change ongoing treatment?
Changing ongoing treatment and medication without consulting your doctor is not recommended. It is important that the underlying disease is well managed and treated. Maintain good habits by being active, keeping a normal daily rhythm, regular meals and with weekends that differ from weekdays. Contact your doctor if you have questions about your treatment.
Children and youth in risk groups
Both national and international experience show that children to a lesser extent than adults develop an illness due to the coronavirus, and there is seldom a need for hospitalization. This also applies to children with chronic diseases. There is little evidence to suggest that the risk of developing a serious illness from COVID-19 is higher for these children compared to healthy children.
On a global level there are very few reports of children with COVID-19 who have died, and very rarely for healthy children.
Kindergarten and school for children and youth in risk groups
Some children with a serious disease may be more vulnerable. In these cases, kindergarten and school adaptations can be considered. This generally applies to children with rare and serious underlying medical conditions. For more information about these groups and COVID-19 in children and youth, visit:
Do you have questions about corona and need someone to talk to?
Several user organisations are now expanding their staffing to be able to answer questions from the general population and from persons with chronic diseases:
Can I visit family and friends in a healthcare institution?
Yes, you can visit under certain conditions. Visits to hospitals, nursing homes or other health institutions should be facilitated as far as possible.
All visits should be carried out in line with the national recommendations for infection control. Local rules may also apply, relative to the local level of infection in the specific municipality. Check the website of the relevant municipality.
If you have been travelling abroad, you cannot visit a hospital or nursing home until 10 days have passed from when your arrived back in Norway. This applies even for visits to yellow areas only.
The need of each individual person to receive visitors should be assessed relative to the risk of spreading the infection, the individual risk of a more severe progression of COVID-19, the local infection situation and the capacity at the institution for welcoming visitors.
All visits shall be registered in order to allow contact tracing by the health authorities should this be required.
The Norwegian Directorate of Health has published recommendations for visits to health and care institutions during the COVID-19 pandemic (in Norwegian). Here you can find further information, details and assessment criteria on how to carry out visits.
Easing the restrictions on visits to nursing homes
The restrictions on visiting residents in healthcare institutions who have been vaccinated is now being relaxed. As the majority of residents in nursing homes have now received their second be dose of the vaccine, they will soon be protected from a serious progression of the disease should they be infected by the coronavirus. Residents at nursing homes can therefore be in physical contact with a selected number of non-vaccinated visitors.
Some residents at nursing homes will not receive the vaccine, either on the basis of their own free will or due to specific health reasons. It is therefore important to maintain good routines for infection control to protect these residents.
Exceptions from travel quarantine in the event of serious illness or funeral of a close relation
You can be exempt from quarantine duty if you can document that you have tested negative for the coronavirus and take another test when you are about to:
visit a close relation who is seriously ill or dying
or
attend a funeral of a close relation
Your spouse, cohabitant, girlfriend, children, siblings, parents, grandparents, parents-in-law or other person with whom you share a close personal connection is defined as your close relation.
Exemption from quarantine duty can only be granted for the specific visit or funeral. The requirements for place of residence and implementation of quarantine still applies.