The Smittestopp app
Smittestopp is an app from the Norwegian Institute of Public Health ("Folkehelsesinstituttet (FHI)" in Norwegian). The app is intended to help prevent coronavirus from spreading among the population and is completely voluntary and safe to use. You must be 16 or older to use the app.
Coronavirus is highly contagious. If you have been near an infected person, you may have become infected yourself.
You will receive a message if you have been near a person who has coronavirus and is using Smittestopp. If you become infected, you can do the same. In this way, the app helps to prevent more people from becoming ill.
Neither you nor anyone else can find out who it concerns, only that you have been near someone infected.
Download Smittestopp
Smittestopp is available for Android and Apple devices and can be downloaded from here:


Can I use Smittestopp?
To use the app, you must have a smartphone which meets the following criteria:
Apple: iOS devices must be updated to at least version iOS 13.5. If your phone is not up to date, you will be told you need to update your operating system when you try to download the app. For iOS, iPhone 6s is the oldest model on which the app can be used.
Android: Android devices must be updated to at least version 6. They must also support Google Play Store and have the Google Play service installed, version 20.13.xx or higher.
Unfortunately, if you have an older phone which cannot be updated to meet these requirements, you will not be able to use Smittestopp on that phone.
You must be 16 or older to use the app.
Smittestopp protects your privacy
The app is based on technology from Apple and Google. Safeguarding privacy was a very important factor during the development of the app. Here are some examples of how your data is protected:
To ensure that who you are and where you have been cannot be identified, random ID keys are continually t via Bluetooth.
The information which is transmitted from phones you have been near is stored securely and only on your phone. This means no other app users or public authorities have access to information on who you have been near or who you are.
It is up to each individual to decide whether they want to download and use the app. You can also choose to delete data, disable the app, or delete it from your phone altogether.
Smittestopp does not collect personal data about you, nor does it have any associated access service.
Privacy and personal data policy
How Smittestopp works
The app must be both installed and enabled on your phone.
If you have tested positive, you register this in the app yourself. This is voluntary, and nobody else can see who has registered as infected.
To let other Smittestopp users know you are infected:
On the app's home screen, tap "Have you tested positive?". You will then be prompted to log in via "ID-porten". You must do this to confirm that you have tested positive. If you suspect you have coronavirus but have not been tested, you cannot share this through the app.
If you have experienced any coronavirus symptoms, you may enter what time the symptoms started. This will enable the app to determine who needs to be notified of the infection risk.
Finally, you will be asked if you want to share what are known as "ID-keys". Your phone has sent these to other phones during the past 14 days. If your answer yes, the relevant people will be notified via the app. You remain anonymous at all times.
You will find out the test result from the municipality in which you live. You can also log in to Helsenorge and check your results via the test result service.
Smittestopp is intended to help limit infection
Smittestopp is intended to help prevent coronavirus from spreading among the population.
Anyone who receives a message via the app that they may be infected will be advised on what to do to. This way, the app can help slow down chains of infection. The app is one of several measures that can help limit the spread of covid-19.
Using the Smittestopp app is entirely voluntary
Downloading the Smittestopp app is entirely voluntary. It is also voluntary to enable it and use it. You can delete both your data and the app itself at any time.
What are the differences between the new and old Smittestopp apps?
Apart from the identical name, the two apps have almost nothing in common. The new Smittestopp app is a brand new technological solution which differs from the old one in the following ways:
The new app stores everything on your phone and does not upload information to a central location as the old one did.
The new app uses Bluetooth and not GPS or any other satellite positioning systems. This way, it does not store data on where you have been.
The new app uses far less battery power than the old one.
The new app is only used for infection tracking, and not analysis or research.
The new app does not collect data which can be used to identify you, so there is no data to gain access to.
The new app does not automatically message other people. You do this yourself when and if you want to.
This is the logo for the new app: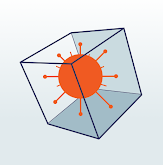 If you still have the old Smittestopp app installed on your phone, you can safely delete it without affecting the new app. It is also safe to leave the old app on your phone. It is not activated and will not send or receive any information.
Technical questions and answers