Unfortunately, emails are sometimes sent out by sources which claim to be Helsenorge, but which are actually attempting to defraud you.
The purpose of these fake emails is to fool people into disclosing sensitive information or giving money.
We do not include a "Logg inn" link in the messages we send out. We also do not send out unsolicited links in emails or SMS messages.
Always log in via helsenorge.no or the Helsenorge app
The best protection you can have against fraud is to never disclose sensitive information without being logged in using BankID or another form of secure login at helsenorge.no or the Helsenorge app.
All our electronic communication with you which includes sensitive information takes place when you are logged in via helsenorge.no or the Helsenorge app.
Once you have logged in, you can safely use links received in messages in your Inbox on Helsenorge.
Logging in to Helsenorge
You can use BankID, BankID on mobile, Buypass ID on smart card, Buypass ID on mobile or Commfides e-ID to log in to Helsenorge services.
What to do if you receive an email scam
Do not disclose any requested information or reply to emails that you are unsure about. Do not click on links or attachments.
If you have entered card and PIN code details that were requested in a fraudulent e-mail, block your bank cards and bank accounts as soon as possible.
Feel free to tip us off by forwarding suspicious emails to spam@helsenorge.no. This will enable us to detect new types of fraud more rapidly. You will not receive a reply to the email you send.
Delete the suspicious email.
Norsk Helsenett SF takes cases of attempted fraud very seriously and reports many cases to the police.
General characteristics of fraudulent email (phishing)
Unknown email sender
Sender name and email do not match.
Unusual or strange title in subject line.
Refers to correspondence that has never taken place
Requests information about you.
It is about something that is urgent.
Link that leads to a strange page. You can check this by hovering over the link.
Poorly written. Gives the impression that it has been translated automatically using Google Translate, for example.
Asks you to open an attachment.
Tells you that your account has been locked and to open it again you will have to click on a link within a certain period of time.
Read more about fake emails on nettvett.no (in Norwegian).
Examples of scam messages that have been sent out
Here, we have posted some information about different types of attempted fraud. There may be several different versions being circulated at the same time.
Example email: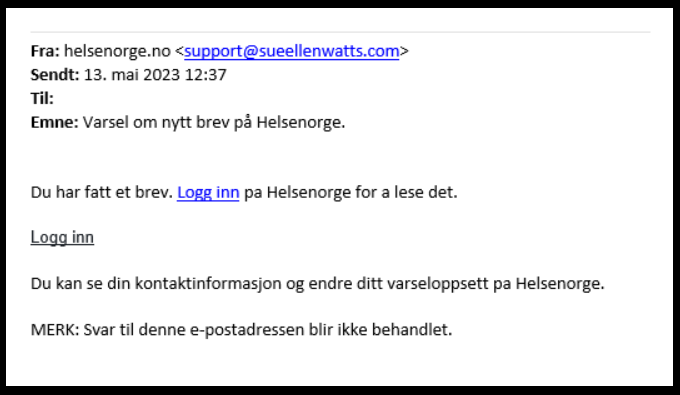 If you had clicked on the "Logg inn" link, you would have been taken to a fake login page, similar to the one shown below.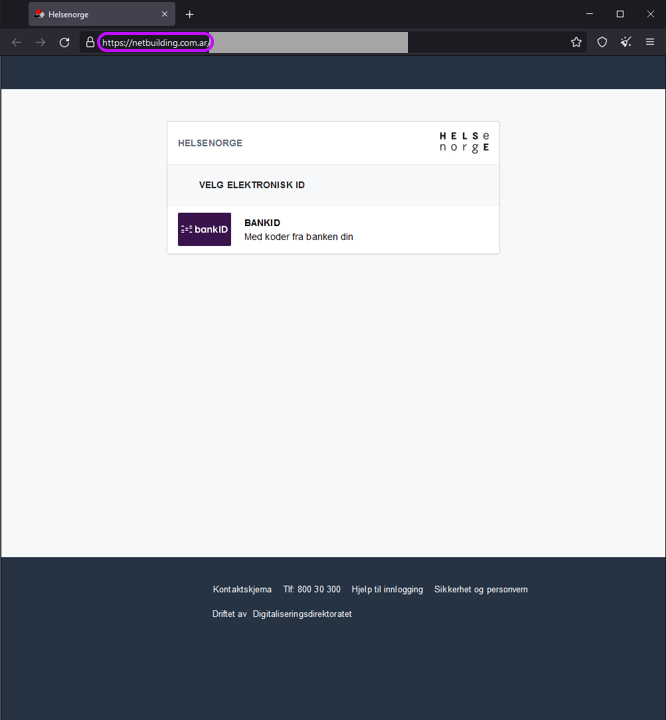 Pay attention to the URL.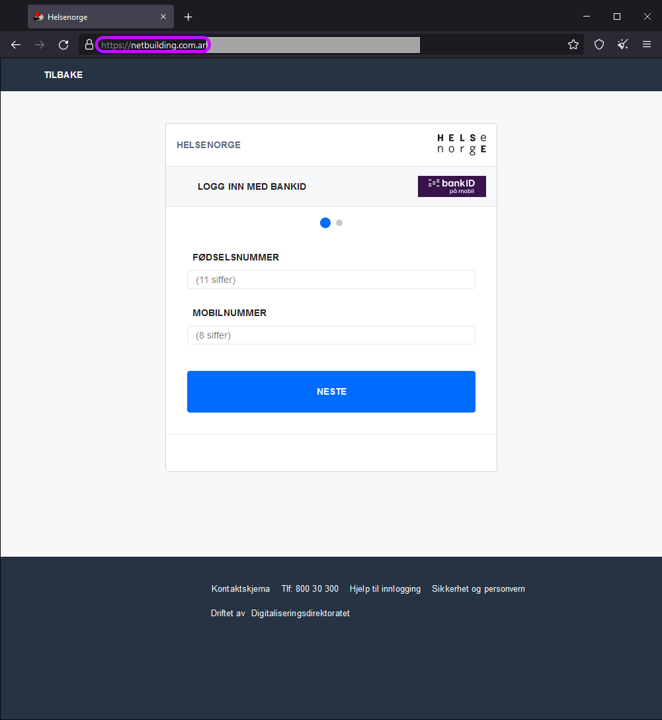 Examples of SMS: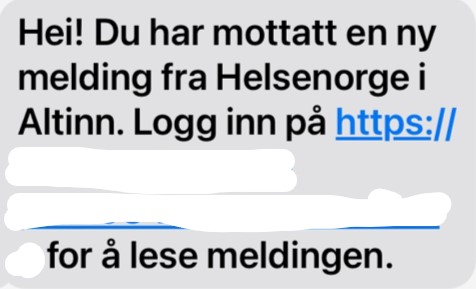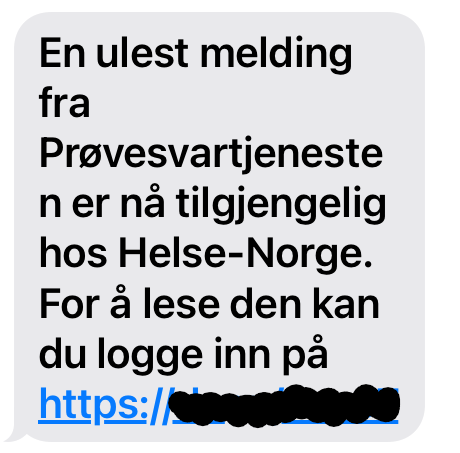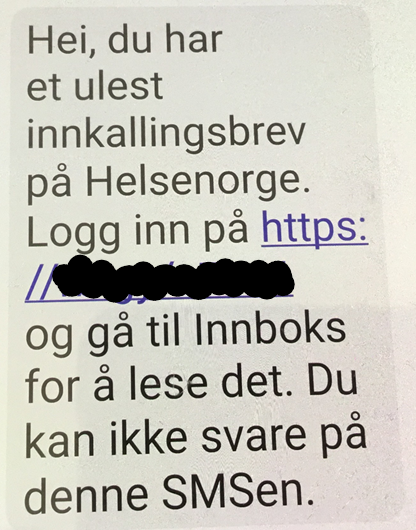 Attempted fraud by SMS. Genuine messages from Helsenorge never contain a link to a login page.